Star Window Graphics
View Window Signs Gallery
Attract, educate, and excite would-be clients with tempting window graphics showcasing your special products or services.
Whether your business is advertising special services or goods, you need to supply privacy for your guests inside your facilities, or simply want to educate your future buyers about your unique services, vinyl window signs and graphics get your business and brand seen and recalled.
Idaho Sign Company is your respected nearby window signage partner, producing inviting window graphics, decals, clings, and signs that keep your business top of mind.
Call Idaho Sign Company today at (208) 314-9833 for your Free Consultation!
Window Signs for All Businesses
Idaho Sign Company delivers attractive window signs, graphics, and lettering for increasing brand recognition. Our knowledgeable window graphic designers deliver durable window graphics that are in-line with your business goals, complementary to your current branding efforts, and sell your products and services.
Our window sign products include Cut Vinyl Graphics and Lettering, Promotional Clings, Posters, and Banners, Complete Window Wraps, Etched Privacy Film, & many more!




We work hard to produce the perfect solutions to support your marketing goals. We learn about your brand and business to make logical suggestions for products that exceed your expectations. Our experienced Star window graphics staff is eager to reinforce your business goals with custom-crafted window graphics, wraps, lettering, banners, signs, and more.
Retail Window Graphics
Retail stores have a lot of time, effort, and dollars invested in their promotional front window displays. A great window display is intended to pull interested potential shoppers inside of your store. When you're marketing a special event, sale, or promotion, or need to increase sales related to a high-margin product, branded window displays are a superb way to accomplish this.
Frequently, window displays are upgraded regularly to exhibit the hottest, latest goods you have to offer. Idaho Sign Company can offer you eye-catching window graphics, signs, and full displays to gain exposure for your specific events and sales and intriguing goods in an engaging way designed to draw in more consumers.
Privacy Window Vinyl For Offices
Multi-office buildings, for example, law firms, counselors, real estate agents, service professionals, insurance brokers, and many other business categories, utilize specialty vinyl window film on their front windows for branding, privacy, or promotional purposes. Our professionals develop privacy film that offers the same look as a custom frosted/etched glass windowpane, without the hassle and cost of replacing entire glass panels.
Many professionals prefer to have their logo and branding elements, company name, and other custom images or messaging included within their etched or frosted privacy film for improved business visibility. Our custom signage professionals can build high-quality, durable privacy film ideal for your business and clients, or supply samples of commonly selected vinyl film solutions that will reinforce your corporate goals.
Window Signs for Service Providers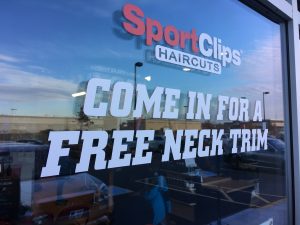 When finished properly, even service providers can attract more potential clients with an attractive custom window display! Show what you have to offer with custom graphics, murals, posters, banners, or lettering showcasing your most beneficial solutions, special promotions, or even build an exciting and informative display that gets your business noticed.
Our professional Star, ID signage designers consider your unique business needs to produce the ideal custom display that your business needs. We take care of production and installation of your business window signs and graphics.

Free Window Sign Consultation
When you need a local Star window graphics provider to provide the high-impact, branded displays your business desires, Idaho Sign Company has the answers for you. Your neighborhood graphics and signs company, we produce the window displays, signs, graphics, posters, banners, or lettering you need to build your company visibility and increase business traffic. If you are ready to elevate your business, Idaho Sign Company delivers.
Call Idaho Sign Company today at (208) 314-9833 for your Free Consultation with a Window Graphics Specialist!