Middleton Acrylic Signs
As a business enthusiast, you most definitely want to create an image of your business that radiates sophistication and a contemporary appeal.
Acrylic signs are, therefore, your absolute choice! This material is generally made of colorless, transparent, and durable polymer that is more lightweight and shatter-resistant than traditional glass signs.
Idaho Sign Company professionally customizes your business sign and establishment with a fresh and shiny look. A single acrylic sign stretches its purpose in countless ways, from gracefully introducing your business to remarkably reflecting what your business serves the people. We can apply acrylic materials ranging from your menu boards, room IDs, product displays, directional signs, POP signs, lobby signs, and other locations you wish to be noticed.
Acrylic signs are best known for being versatile, so we understand the difficulty in choosing the exact type of style that fits your business personality. Our expert design and installation teams are all reliable in helping you pick and achieve the right acrylic sign to maximize the acknowledgment of your band. We give you experienced signage specialists that have sharp eyes in realizing your most preferred acrylic sign type at a realistic price.
Call Idaho Sign Company today at (208) 314-9833 for your Free Consultation with an Acrylic Signs Expert in Middleton!
Variety of Acrylic Sign Options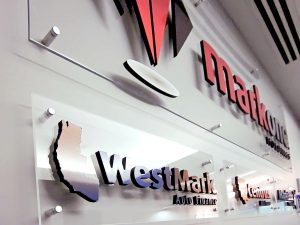 The many types of acrylic signs serve different purposes, thus fabricated into their respective uses. It is a crucial point to remember to pick one that is made for full effectiveness and resiliency. Idaho Sign Company, serving the residents of Middleton, is capable of manufacturing the two main varieties of acrylic signs, which are standard surface printing and subsurface printing.
Standard surface printing, also known as the front side acrylic, causes a matte finish and a thicker feel to your sign. It gives a non-transparent look to your sign that enables you to feel the ink when you run your fingers across the surface of the acrylic. We guarantee this as the perfect choice for your tight budget because it takes fewer production resources.
Subsurface surface or second surface printing adds a high-end effect to your signage by applying the print at the back or rear-facing surface of clear acrylic. It creates a magnificent upshot to viewers due to the glossy dimensional result. We assure that although it costs more than standard surface printing, the quality of the signage is worthwhile. Its elegance will make your future business associates talk about your business more often than they usually do.
Clear and Frosted Signs
The years of our service proved the fact that the opacity of an acrylic sign should be highly considered to grasp its core purpose. Clear and frosted signs are impressively done by our experts in a way to deliberately capture your brand identity and company appeal.
Our clean glass-like appearance with seamless transparency and lustrous finish is perfect for the modern look of your business establishment. We can produce a three-dimensional feel to your sign through smearing an appropriate background color on the backside of the clear acrylic. Idaho Sign Company offers an affordable, shatter-resistant, and low-density substitute to glass signs with quality worth risking for.
We create frosted acrylic signs that are blended with an accurate amount of transparency and translucency. The matte finish of frosted signs is suitable for diffusing harsh light, reducing exposure to glare, and securing the privacy you want for your business transactions. The comfort it delivers satisfies your brand's aim of a calm and safe atmosphere. These frosted signs don't just attract attention from your customers but successfully performed its utilitarian functions as well.
Indoor or Outdoor Signs
Acrylic signs and its dynamic feature can both be applied indoors and outdoors with equal efficacy and aesthetics. Idaho Sign Company is equipped in producing the highest quality of acrylic signs wherever the area you find it applicable.
Acrylic signs come with a myriad of options in terms of shapes and sizes. But we are confident that all are immensely proper for signs found indoors such as on office lobbies, on hospital and clinic walls, on doors, on restaurant counters, along supermarket aisles, and other professional vicinities. Our past clients have witnessed the long-lasting and low-maintenance properties of our indoor acrylic signs.
Naturally, acrylic signs outdoors are not as durable with indoor signs due to environmental disturbances that it encounters. However, we warranty that Idaho Sign Company manufactures more heavy-duty and can still commendably promote your business to passersby, onlookers, and potential customers. Outdoors signs are specifically sub-classified as entrance signs, dimensional letters, wall signs, and cabinet signs that can be illuminated for better allurement.
Full-Service Sign Company
Here at Idaho Sign Company, we are proud to present the long lists of successful sign-making business deals. The suppliers we have are committed to delivering quality acrylic sign materials. We methodically choose the most operative procedures, spending smartly on only the best materials, and meticulously discern all details at hand.
Our trained and competent specialists in acrylic sign installation assemble the finest shatter-free polymer and skillfully print with nothing but premium UV ink. Idaho Sign Company has never disappointed our clients because we commit to providing full-services to our clients, and you will never worry about professionalism and a good working environment. Our process is proven effective, and our experts are gratified for their awe-striking project results.
Free Acrylic Signs Consultation
We deeply apprehend the vast selection of acrylic signs' shape, style, texture, and type. The art that runs through our every staff's veins is applied to the signs we make to endorse your business better. Idaho Sign Company, serving Middleton, ID, reinforces the excellence and elegance of the empire you are about to build.
At a budget-friendly price, you are fully given the satisfaction of your business needs. The knowledge and expertise we have acquired through the years of sign-making services will mount up to the success of your business goals. We are ready to make your business be in the spotlight!
Call Idaho Sign Company today at (208) 314-9833 for your Free Consultation with an Acrylic Signs Expert in Middleton!