Kuna Indoor Signs
View Indoor Sign Gallery
Motivate your staff, promote your products, and make it easy for customers to find what they need with attractive, functional, and high-quality indoor signs and graphics by your Kuna interior signage company, Idaho Sign Company!
From wayfinding signage to branded lobby signs, we have the custom signage solutions you need to create an effective and productive work environment. Keep staff safe with high-visibility safety and warning signs or sell more of your highest margin products with promotional signs. With the right combination of indoor signs and graphics, it is easy for everyone to find the areas and items they need, whether working, shopping, or as guests in your facility.
We customize your indoor signage to suit your brand, goals, business type, and facility. By providing on-site consultations to local businesses, our Kuna indoor sign and graphics experts can study your space, analyze traffic flow and how visitors navigate your facilities, and consider your goals to recommend appropriate supporting signage.
If you want effective indoor signage that supports your goals, our interior sign solutions provide exactly that.
Call Idaho Sign Company at (208) 314-9833 for your Free Consultation!
Interior Signs For Office Buildings
Office buildings often house several different business offices or may consist of multiple offices for individual single business. Because of that, it can be challenging to navigate these facilities, leaving it the responsibility your receptionist to provide assistance and directions to every client, visitor, or guest. This is why effective interior office signage is so important!
With easy to find and understand directories, room identification signage, logo signs, and other wayfinding elements, your guests are able to navigate your space without assistance. This allows you to free your receptionist and staff for other important tasks.
Indoor signs are also a great branding tool for individual offices. Custom logo signs, durable floor signs, attractive wall murals, and helpful informational signs share information about your brand, your business history, and the unique products or services you offer. Most businesses utilize a combination of signage elements to fully support and promote their brand and business.
Retail & Restaurant Indoor Signs
Indoor signage for retail stores and restaurants is more targeted at promoting products than reinforcing branding. However, when effectively design and produced, branding plays a huge role in all of your promotional and wayfinding signs and graphics!
Idaho Sign Company creates every signage element a retail establishment or restaurant could possibly need. We custom craft department signs, ADA signs, promotional signs and product displays, menu boards, digital message centers, and any other sign your business needs. We utilize your brand colors, fonts, and logos for reinforcement and repetition of your branding elements throughout.
We make it easy for customers and guests to navigate your store, finding the products and departments they need in order to do business with you. With a focus on intuitive signage, we understand customer behavior and the impact that has on signage placement. We make sure you have the right signs in the right place, every time.
Signs for Warehouses & Manufacturing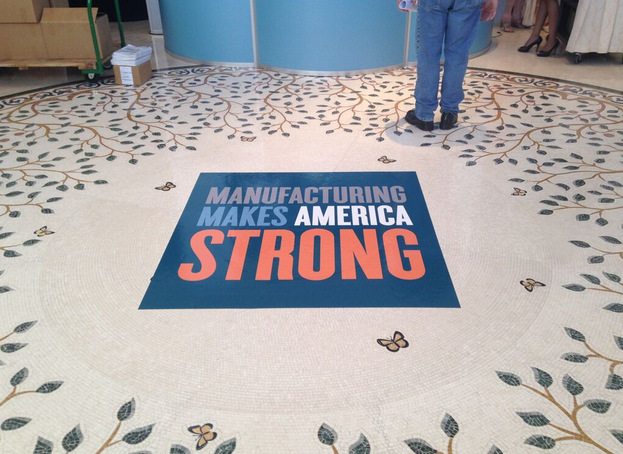 Businesses that are only open to staff still have a vital need for impactful and effective signage to support their business. Whether your goals include improving morale, reminding staff of safe practices and warning them about hazard areas, or telling the story of your brand and business with wall murals and vinyl graphics, Idaho Sign Company creates the right signage blend for your warehouse, manufacturing facility, or distribution center.
Custom wall murals, eye-catching safety signs, motivational indoor banners, and effective wayfinding signage all support your business goals. We create signage focused on reducing the risk of injury and lost time as well as delivering a workplace that employees actually enjoy returning to each day. Idaho Sign Company is your Kuna, ID indoor signs and graphics partner, delivering high-quality and effective manufacturing signage that supports your business and goals.
Cohesive Indoor Signs for Business
Promoting your brand and building name recognition for your business is key to long-term, continued business growth. By utilizing your unique branding elements and marketing messages throughout all of your marketing and signage, you can get that much needed brand reinforcement. Cohesive, branded signage also reinforces who you are as a business, providing a professional feel from your ADA signs to your promotional displays.




Not sure what signs are right, need support with cohesive design, or want to learn more about how your branding can be utilized throughout the various signage elements? Our Kuna, ID sign and graphic experts support you through every step of the process, from recommending smart signage elements and placement to ensuring everything is securely installed for long-term impact.
Every Indoor Sign Your Business Needs!
Idaho Sign Company is your Kuna indoor signs and graphics provider, delivering attractive, cohesive branded indoor signage that performs.
From custom product displays to ADA signs, we know that different niches and different businesses have different signage needs. We consider your personal business goals, actual physical space, and unique brand personality to customize the right signs for your business needs.
Whether you require only a single vinyl graphic or a complete set of office signage, Idaho Sign Company delivers signage that meets your needs, timeframe, goals, and budget.
The signage we craft is high-quality, attractive, and produced with environmentally-friendly, sustainable machines, methods, and materials when possible.
Our indoor sign services include:
Need attractive exterior signs for max cohesion? We produce complementary storefront signs, outdoor promotional signage, vehicle wraps, and any other promotional or brand-promoting signage your business needs!
Full-Service Interior Sign Manufacturers
As a full-service Idaho indoor signs and graphics provider, we manage every aspect of your signage project here on-site.
From our initial consultation through to final installation, we work with your vision, goals, and brand identity in mind. Whether we are recommending effective signage elements or suggesting specific placement, we utilize our expertise in brand promotion to deliver the best for you.
We want your signage to be as attractive and effective for your business as possible, because we want you to become a lifelong customer of ours. We know that the best way to keep you coming back is to deliver high-quality, attractive sign and graphic products that make your business look great while supporting your goals. From working alongside you during the design process to ensuring everything is secure, clean, and finished during installation, we are driven to deliver satisfaction for you every step of the way.
Free Expert Indoor Sign Consultation
Idaho Sign Company is your Kuna indoor signs and graphics partner, delivering the high-quality, affordable signage elements you need to support your staff, visitors, customers, and clients. From retail stores to offices, restaurants to manufacturing facilities, we understand the importance of effective sign and graphic elements, and produce signage that is targeted at supporting and exceeding your company goals.
Call Idaho Sign Company at (208) 314-9833 for your Free Consultation with an Indoor Signs Specialist!