Huston Vinyl Wraps
View Vinyl Wrap Gallery
Idaho Sign Company produces enticing vinyl wraps for all of your business marketing needs!
Vinyl may be used to advertise your company marketing, maximize team satisfaction, support corporate navigation and wayfinding, share your unique brand story, as well as significantly more. Freely utilized on most any even surface, vinyl wraps can upgrade your walls, floors, windows, doors, and more! Our hardworking vinyl specialists are excited to assist you with your Huston vinyl marketing goals.
Want your front desk, tables, or waiting area wrapped in custom design? Our team of dependable Huston vinyl wrap professionals will suggest the right vinyl material, as well as can help with design, assembly, as well as quality installation to ensure your wrapped signs look eye-catching as well as being reflective of your brand.
Call Idaho Sign Company today at (208) 314-9833 for a Free Consultation!
Vehicle Wraps & Graphics
Vinyl wraps publicize your business and they develop an improved customer perception as well. If you own a business where you visit people at home, like electricians, cable installers, or exterminators, people can sometimes be tentative to allow you into their homes. With customized vinyl wraps and graphics, clients feel assured that you are a legitimate representative of your advertised brand, leading them to feel more secure welcoming you inside.
Our vehicle wrap services include:
Promotional vehicle wraps and graphics are widely used across many markets. Any business that hopes to market their brand while on the road can profit from unique ad wraps for their commercial vehicles.
In our opinion, all companies can benefit from vehicle wraps or motor vehicle vinyl graphics. Whether you have been looking for a full motor vehicle wrap, wraps for your entire fleet, or just a few vinyl graphics, Idaho Sign Company delivers the perfect vinyl signage for your business needs.
Vinyl Wraps For Any Surface
Automobiles aren't the only method for advertising your company, raising your visibility, and developing your consumer experience with vinyl graphics. Idaho Sign Company provides vinyl solutions for every element of your company, from doors to floors, windows, tables, walls, and most other clean surfaces, including concrete, tile, wood, carpet, plastic, acrylic, metal, and more!




Progressively more organizations are making use of vinyl wraps to make engaging murals for their companies. Used in breakrooms, lobbies, hallways, back offices, waiting rooms, and on windows, these substantial, attractive vinyl signs can excite, relax, or inform your visitors, employees, and clients. Very sturdy, vinyl wall murals are resilient to dirt, cleaning, and traffic, making them a fantastic option for even the highest-traffic places.
Custom Wrap Company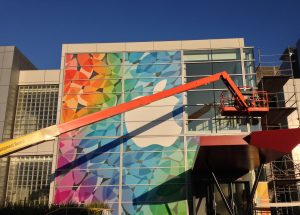 As a complete Huston, ID vinyl wrap and graphic signage shop, we accommodate every aspect of your vinyl wrap project. Starting off with your initial free vinyl consultation, we consider your goals, objectives and specific ideas. This allows our signage experts to recommend the ideal vinyl signs and graphics for your budget and intended use.
We provide full custom vinyl graphic design services for your vinyl signs, working to ensure everything is precisely how you'd like it. We can work from defined brand guidelines or can start from conceptualization if you do not have a definite design defined. Once you have authorized a final design, our on-site assembly employees take over to make your wrap fast, efficiently, and to your specs.
For many of the customized vinyl signs and graphic products we offer, we also provide you with on-site installation to make certain it is free from wrinkles, warping, and bubbles, as well as being properly aligned, for an appealing, expert appearance.
Free Vinyl Wrap Consultation
Idaho Sign Company is your local partner for engaging, professional custom Huston vinyl wraps for your company goals. We can't wait to show our value to you, and become your trusted signage supplier for all of your sign and graphic goals.
Call Idaho Sign Company today at (208) 314-9833 for a Free Consultation with a Vinyl Wrap Expert!