Kuna Wall Murals
View Wall Mural Gallery
Promote your brand with durable wall murals and graphics by Idaho Sign Company!
Ideal for business usage, custom Kuna wall murals can convert a bland hallway into a lesson on your business history, add color and excitement to an uninspiring wall, or can even promote your logo in your office reception.
Whatever your planned purpose, placement, or size, from attractive lobby signage to motivational vinyl murals in break rooms, our experts design, fabricate, and install the perfect signage for your business. If you already have a wall mural ready for printing, or simply a bland hallway that you feel could be better utilized, our talented and knowledgeable staff can assist you with transforming the walls of your unique business into customer engaging custom works of art.
Call Idaho Sign Company at (208) 314-9833 for a Free Consultation with a Wall Mural Expert!
Complete Design Control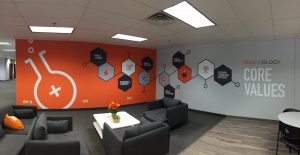 Our Kuna, ID vinyl signage company manufactures custom wall murals exclusively made for your organization, branding efforts, and area. Our custom sign shop uses durable, long-lasting vinyl to produce impactful branded wall lettering and graphics that can showcase any message, feeling, or story you desire. With eye-catching, giant scenery murals to cut vinyl wall decals that promote your brand, we take care of you.
Want to make seasonal changes? Great idea! We deliver temporary and removable wall murals that can be taken down any time you want and reverted back to your undamaged wall, or fitted with new murals to mirror current special events, new products, or branding.
Full-Service Wall Vinyl Company
Still deciding exactly what you want? That's ok! Our experienced sign and graphic designers support you with concept creation, layout, and design. In fact, we manage every single aspect of the sign and graphic fabrication process, assisting you from the initial mural design all the way to expert vinyl installation in your business. We perform Kuna on-site signage evaluations, including measuring your unique space so the mural fits perfectly.
Idaho Sign Company uses only the highest-quality vinyl signage materials, allowing you to be assured that your wall vinyl will stay in place long-term, with an eye-catching and appealing finish.
Professional Vinyl Mural Installers
Vinyl murals and graphics can be self-installed. However, for the best finish, it is best to trust a professional vinyl installation company to put your artwork in place. Large sheets of vinyl can be tricky to implement, every so often which causes small rips, bubbles, or creases giving an unprofessional overall appearance.
When working with Idaho Sign Company, should there be any obstacles that arise while performing your wall mural installation, which often includes things like damage to the vinyl, we will replace it for free, unlike problems sustained while installing your mural yourself.

Free Wall Mural Consultation
We are excited to deliver the absolute best sign and graphic products for your business. Our goal is to become your one-stop Kuna wall mural and vinyl sign provider for all of your business promotional signage needs. With a wide catalog of signage services and products, we ensure that your store always looks exciting, engaging, and equipped to help the potential new clients and customers your branded signage will bring in consistently.
Call Idaho Sign Company at (208) 314-9833 for a Free Consultation with a Wall Mural Expert!