Wilder Wall Graphics
View Wall Graphics Gallery
Idaho Sign Company designs, fabricates, and installs impactful, large-format wall murals and graphics that are certain to excite customers and guests.
Optimal for business and marketing usage, custom graphics add color and excitement to a boring, blank wall, can change a plain hallway into a visual timeline of your company story, or can promote your brand in your business reception.
Whatever your specific purpose, size, or placement, from hand washing signs in bathrooms to inspirational custom vinyl wall graphics in break rooms, our experts plan, produce, and custom install every sign and graphic element your brand wants. If you have an attractive wall wrap design in mind, or a bland space that you want to put to work for you, our dependable and well-informed team of Wilder wall graphics experts can help you with transforming your facility walls into brand-building marketing messages.
Call Idaho Sign Company at (208) 314-9833 for a Free Consultation with a Wall Mural Expert!
Complete Design Control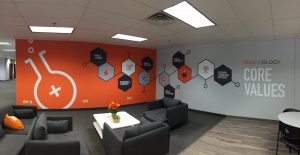 Idaho Sign Company custom produces wall graphics made for your business, brand, and area. Our Wilder sign manufacturers use durable, long-lasting vinyl to develop show-stopping wall murals, graphics, and lettering that can deliver any message, feeling, or story you wish to display. With large-format, breathtaking full-story murals to cut wall decals that deliver a message, we are here for you.
Ready for a change? Easy! Our custom wall graphics are removable, so they can be replaced whenever you desire and returned back to your plain, undamaged wall, or restored with new designs that exhibit your most recent business promotions, special events, or seasonal changes.
Full-Service Wall Vinyl Company
Not set on a design? No problem at all! Our team of experienced Wilder, ID sign and graphic designers can create the perfect concept for you. We cover every step of the fabrication process, supporting you from design through to high-quality installation in your business. We perform on-site facility evaluations, including measuring for proper fit.
Idaho Sign Company uses only the highest-quality vinyl materials, allowing you to be positive that your new wall vinyl will be in place and show-stopping with a pleasant finish.
Professional Vinyl Graphics Installers
Self-installation of your wall graphics is possible, however for professional results, it is best to have a skilled vinyl wall graphics installation team to put your artwork in place. Heavy vinyl graphics are usually really difficult to work with, in some cases producing crinkles, creases, or tears leaving a less than professional overall appearance.
When you work with Idaho Sign Company, should there be any challenges that crop up while we are performing the installation, including damage to your graphics, we will switch it at no cost, unlike problems sustained during consumer installation.

Free Wall Mural Consultation
Our Wilder wall graphics experts are determined to produce the best possible vinyl graphic elements for your needs. Our desire is to come to be your trusted signs firm for all of your custom business signage desires. With a sizable catalog of commercial signage goods and services, we assure that your facility is always looking sharp, exciting, and prepared to assist the potential new clients and guests your custom sign elements will draw in every single day.
Call Idaho Sign Company at (208) 314-9833 for a Free Consultation with a Wall Graphics Expert!