Marsing Vehicle Wraps & Graphics
View Vehicle Wrap Gallery
Take your marketing on the road with high-impact, high-visibility vehicle wraps, graphics, and lettering! Idaho Sign Company provides complete vehicle wrap and graphic services, ensuring you are getting the most out of all of your corporate vehicles.
From single vehicle customization to adding full wraps and graphics to your entire fleet, we work with you to determine the right level of wrapping for your vehicle and business needs. Providing wrap design, production, and installation, we ensure your graphics are not only professionally designed for maximum impact, but that they are produced to a high-quality standard, and professionally installed for long-lasting impact.
We work with all vehicle types, crafting attractive wraps and graphics for trucks and trailers, vans, box or food trucks, buses, RV's, even corporate cars, boats, or other tools of your trade. When you desire cohesive marketing for all of your channels, we deliver the right signs, wraps, and graphics for your needs, every time.
Call Idaho Sign Company at (208) 314-9833 for a Free Consultation with a Commercial Vehicle Wrap Expert!
Vinyl Graphics, Partial Wraps, & Magnets
There isn't just one solution for commercial vehicle graphics. At Idaho Sign Company, we offer a complete range of vehicle wrapping services, and complementary elements to further support your branding or that deliver the perfect finishing touch. We work with you to ensure you are maximizing the effectiveness of your vehicle as a branding tool while also keeping in mind your budget and goals.
Full Vehicle Wraps
Full vehicle wraps are sleek, attractive, and provide a high level of visibility and protection to your corporate vehicle. Providing seamless coverage from front bumper to rear, we ensure your full-color advertisement is easy to read and understand, featuring your most important marketing messages and business details. Full wraps also provide a layer of protection for your factory paint job, making the benefits twofold.
We are experts in wrap layout and design. We understand the importance of placement and size of your text throughout your design, and how to complement the curves of your vehicle in order to draw attention to your messaging. When you are ready to invest in full-color wraps and graphics for your corporate vehicles, there is no better partner than your Marsing vehicle wraps provider, Idaho Sign Company.
Partial Car Wraps
Partial car wraps are similar to full vehicle wraps; however, they allow you to focus your promotional message to a specific part of your vehicle instead of providing full coverage. You determine the level of wrap you would like, and can pinpoint areas that deliver the most visibility, such as door panels, tailgates and rear panels, your hood, or a combination of elements.
Providing full coverage to selected panels, partial wraps provide a look and feel similar to that of a full wrap; however, it will not provide a protective layer to any unwrapped surfaces.
Vinyl Graphics
Individually cut vinyl graphics are another way to add personalization and customization to your corporate vehicles. They are ideal for adding small amounts of information, such as your business name, logo, licensing details, and contact information.
While cut vinyl graphics and lettering doesn't provide a seamless finish like a full wrap does, it requires much less vinyl material to produce, making it a cost-efficient option. It is also easier to update, as you can adjust or change individual elements without having to remove the entire design. We can add graphics and lettering to any part of your vehicle, even the roof or hood, allowing you to customize your fleet exactly as you please.
Vehicle Magnets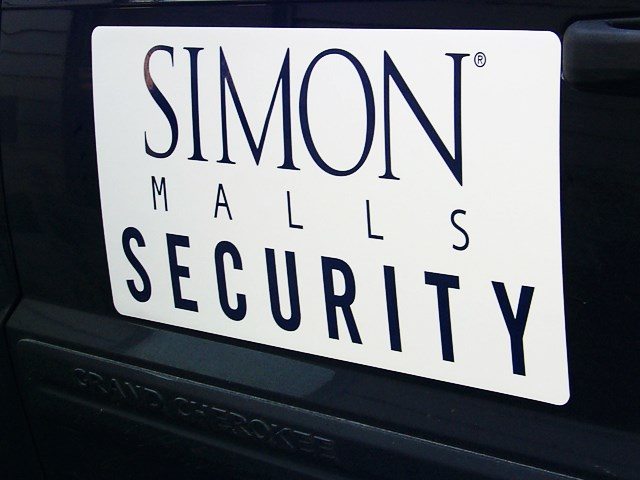 Many brands choose vehicle magnets for the flexibility. Since they can easily be removed and placed on another vehicle or location at any time, magnets make a great choice for those who change vehicles frequently, such as those switching from delivery to transport vehicles, or those who work for multiple organizations, such as private contractors.
Some prefer vehicle magnets for personal reasons, such as the ability to remove their marketing when using their vehicle for personal errands, or when parked at their home. Magnets are incredibly versatile from a design standpoint, and we can create them in practically any size, shape or style.
Perforated Window Film
An attractive finishing touch, perforated vinyl window film allows your vehicle occupants to clearly see out of the vehicle, while simultaneously obstructing the view of anyone looking in. Instead, they will be presented with an attractive marketing message promoting your brand, services, or products.
We can provide perforated window film for both vehicles and storefronts. In fact, many of the materials we use for vehicle wraps and graphics are the same that we use for other sign making projects. This means that if you are looking for a truly cohesive experience everywhere your signs and graphics can be seen, Idaho Sign Company is the obvious choice of provider for you.
Professionals Wraps For All Vehicle Types
While many businesses understand the value of adding commercial wraps to their delivery vehicles and tractor-trailers, large, over-the-road vehicles aren't the only ones that can benefit from attractive wraps and graphics.
We create cohesive designs for all of your fleet vehicles. Whether looking to customize your corporate cars, add branding to your work trucks, or want to add a promotional message to your fleet of vans, we have smart solutions and fast turn around times, so you get your vehicle back on the road faster.
Our wrap products are customized to both your vehicles and your needs. We provide full wrap and graphic services, ensuring we are meeting your goals, budget, and timeframe.
Our vehicle wrap services include:
In addition to our custom vehicle wrap and graphic services, Idaho Sign Company provides high-quality, complete business signage, including customized indoor signs, outdoor signs, and any other custom signs your business may require or desire.
Fleet Wraps Deliver Peace of Mind
Vinyl wraps, graphics, and lettering offer a lot more than promotional value to your business. Beyond providing protection to your vehicle, they also provide peace of mind to your customers.
It's not uncommon for delivery drivers and service providers to be called to visit the home of a customer or potential client. With attractive vehicle wraps, graphics, and magnets, homeowners feel confident that you represent the organization you claim. Whether you represent a cable company, pest control service, or are a private contractor like an electrician, landscaper, or plumber, customized vehicle graphics deliver the security your customers need to feel comfortable letting you into their home.
Full-Service Vehicle Wrapping
As your full-service Marsing, ID vehicle wraps and graphics provider, we handle your custom wrap project from start to finish. From working with your team on the initial design and layout all the way through to environmentally friendly production and professional installation, we focus on delivering the best solution for your needs.
Our designers work directly with you to craft wraps, graphics, or magnets that suit your vehicle style and distinct business branding. Whether you are looking to use a couple of different vehicles for promotional purposes, or want to brand your entire fleet for consistency and professionalism, we can take the same basic design and customize it to all of your vehicle types.
Wrap installation is especially tricky, which is why it is so important for you to have an expert wrap installation professional at your disposal. It is especially important to pay attention to areas where lines in your wrap design intersect across panels, ensure an attractive finish that looks complete, intentional, and seamless.
Free Vehicle Wrap Consultation
Whether you need an entire set of cohesive wraps for your entire fleet, complementary storefront signage to match, or are just looking for a single element for one corporate vehicle, we provide complete signs, wraps, and graphics services. As your Marsing vehicle wraps and graphics partner, we know that the right combination of signage is just as important as the signs themselves. We make sure you have the right custom signs in the right places at the right times.
Call Idaho Sign Company at (208) 314-9833 for your Free Consultation with a Vehicle Wrap Specialist!