Ada County Tenant Signs
View Sign Gallery
Tenant signs are vital for business centers and properties with single or multiple tenants at one location. This may serve as an informational sign, but a remarkable one attracts more marketing possibilities than its initial purpose.
Tenant signs can deliver your establishment's brand message to full potential as it creates a loud invite to clients and other associates. Investing in a high-quality tenant sign gives a good marketing mark-up. They are an excellent visual illustration of what are the limits your business can offer.
Impressive signage can make your full shopping store or building a priority for future tenants, especially in a place with a sea of shopping areas. Passersby or residents would surely consider you the moment they recognize your name through the signage they see among the clouds.
Idaho Sign Company focuses on all aspects of creating your business signage, from designing, building, installation, maintenance, and even necessary repairs of your tenant signs. We already acquired the knowledge, experience, and equipment best needed for custom-crafted tenant signs perfectly suitable for your budget and taste.
Call Idaho Sign Company today at (208) 314-9833 for your Free Consultation with a Tenant Signs Expert in Ada County!
Stylish Tenant Signs
Tenant signs practically help your current and prospective customers to locate your area easily. Its usefulness has never been argued and disputed. Here in Idaho Sign Company, we entirely believe that alongside practicality, tenant signs can be as aesthetic as well. Informing people of your quality business doesn't have to be fully corporate and boring. We can make that as astonishing as possible!
Our team of professionals can provide extraordinarily designed tenant signs without neglecting the very purpose of it in the first place. We customize your signs according to your business personality, location, and target market. Idaho Sign Company utilizes first-class materials that can make durable signs with a beauty that lasts a long time.
You can choose among elegant sandblasted signs, timeless wooden signs, sturdy monument signs, modern dimensional letters, or other enchanting but resilient sign options. We are confident in providing the service you need to enhance the desirability of your brand.
Durable Exterior Signs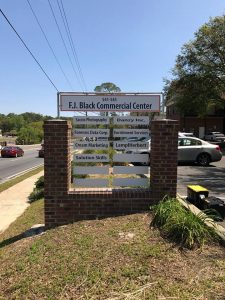 Idaho Sign Company firmly stands with the fact that a single standing sign screams the value of a business. Your signs must personify the sense of strength, permanence, and stability that you in the business world practice.
The very reason why we largely endow in the quality of our materials is that we want you to have signs that can stand the test of nature and time.
Our years and decades of experience expanded connections with sign material suppliers. We have available aluminum, metal, acrylic, MDO plywood, and other materials to construct your desired sign from our trusted and reliable partners.
We guarantee to deliver nothing but the greatest tenant sign there is.
Electronic Tenant Signs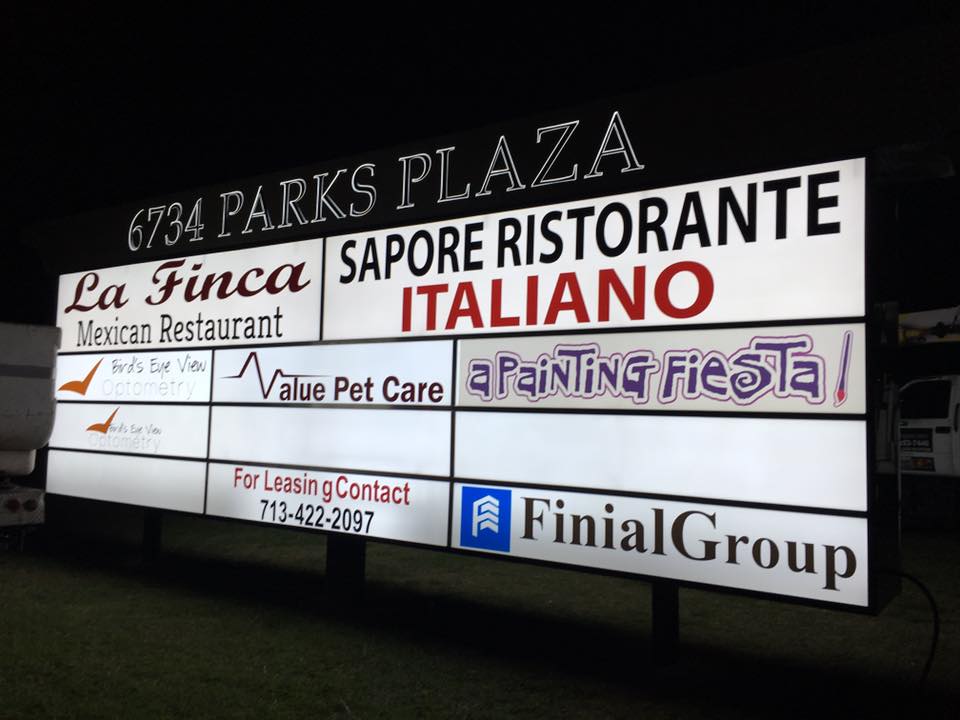 The array of benefits that come with electronic signs are countless. It is very effective in rendering print displays in an attractive way. In this era of the digital world, print displays can become too costly with repairs and protective attempts to make it last longer. It gives more sense to groove in a digital or electronic display. Your business would surely be an outstanding spot while attracting more customers through day and night.
The color and clarity of the sign not only displays information but would hit a high market level as well. Who wouldn't pay attention to blinking messages and motioning announcements? Electronic tenant signs are highly customizable due to their incredible flexibility of design options.
Idaho Sign Company can give you the most durable and cost-effective electronic display achievable. Ranging from brilliance and efficiency, we offer the ultimate LED displays that can last for several years!
Full-Service Sign Company
Idaho Sign Company is your multifaceted sign shop, serving Ada County, ID, that doesn't just print traditional signs and banners for you. Our local but versatile team of signage experts have been trained and tested to construct, install, sustain, and restore tenant signs you need for your business growth.
We do not just create for the sake of providing your necessities, but we do work accompanied by art. You may think of stiff personnel from our team but worry no more, we have artists and designers that will never put your signage in dismay. We are present from the beginning to the end of the services you need.
Idaho Sign Company is equipped with the understanding and expertise yielding tenant signs that conform to your area's regulations and guidelines for tenant sign placement and installation. We secure legal and artistic approach blended in one.
Free Tenant Signs Consultation
Idaho Sign Company is here to provide dynamic, innovative, practical, and long-lasting tenant signs in Ada County. Our proven years in the business gave us knowledge that tenant signs are vital aspects in the success of a business venture. We know how to balance the needs and wants of our clients, for we state facts and apply art to the right places.
Our specialists will answer your queries about design and cost as well as offer recommendations and advice for your tenant sign project. You only need one call to realize your visions.
Call Idaho Sign Company today at (208) 314-9833 for your Free Consultation with a Tenant Signs Expert in Ada County!